Calculators
Discover the magic of compounding!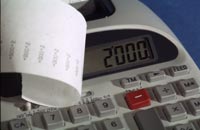 If you could have one of the following as your payment for thirty days' work, which would you choose? (A) $10,000, or (B) a penny the first day, two cents the second day, four cents the third day, eight cents the fourth day, and so on, with each day doubling on out to thirty days.
The $10,000 sounds very attractive, but the fact is that the penny doubled each day for thirty days adds up to over five million dollars. Of course, that is 100% interest compounded daily, a rate not available to most of us working folk. Nevertheless, this example shows you the power of compounding on your investment earnings.


We are providing these interactive financial calculators and other tools to assist you with some of the day-to-day questions and concerns that may arise. While these financial tools are not a substitute for financial advice from a qualified professional, they can be used as a starting point in your decision making process.
Feel free to browse around and use these calculators to provide you with some answers on the simpler situations. We are here to help you should you require more assistance.